Fried Chicken is a very crispy and crunchy recipe. Its taste is very delicious. Some people like to eat it with gravy but Some people like to eat it fried. Nonvegetarians peoples like to eat it very much. You will get Fried Chicken easily in the markets or restaurants but today we will tell you to make it at home on our website Lazizrecipe.
Hello friends, I am Ankita Maurya welcome to you this website lazizrecipe.com today we will tell you the easiest way to make Fried Chicken at home in this article. If you want to make this recipe at home and you do not know how to make it, then today we are going to tell you the complete information about the recipe. This is a healthy recipe that you can easily make at home.
Due to the rich nutrition in chicken, it is also beneficial for our health. And you also know very well a good amount of protein is found in chicken. Although it takes more time to digest than vegetarian food, due to the many nutrients in it, it is also very beneficial for our health.
Fried Chicken 
This is a very wonderful dish for those who like to eat chicken, Those peoples know very well all dishes of chicken are very tasty, but the matter of chicken fry is different, it is more delicious than it is easy to make.
The fried chicken from that restaurant that you've been craving can now be easily prepared at home. This easy and quick recipe makes for some delicious fried chicken wings. So will just invite your friends and family over for a chicken party and impress them with fried chicken taste
Everyone likes to eat it because it is an instant dish. Fried Chicken is prepared very short time it will be ready to become a delicious one. By the way, there are many ways to make this Pinwheel Pizza and everyone likes to make it in their own way, so today in this article we will tell you how to make Fried Chicken in a very easy way, in this only common spices used at home.
Ingredients of Fried Chicken
| | | |
| --- | --- | --- |
| S.N | Ingredients | Quantity |
| 1. | Chicken | 500 gram |
| 2. | curd | 1 cup |
| 3. | White vinegar | 2 Tsp |
| 4. | Ginger garlic paste | 1 tsp |
| 5. | Black paper | 1 tsp |
| 6. | salt | 1 tsp |
| 7. | Red  Chilli paper | 1/2 tsp |
| 8. |  Oil | 2 tsp |
How to make Fried Chicken
First of all, wash the chicken pieces thoroughly 2-3 times.
Now after that put the chicken in a bowl to marinate it
Take a Bowl mix of curd, salt and lemon juice and chicken, these all ingredients mix well
This bowl is covered for 15 – 20 minutes.
After 15 minutes when your chicken is marinated, now prepare the batter for it
Now take another bowl and add red chilli, black pepper, ginger garlic paste, gram flour etc. Mix all the spices well
When your batter is ready, keep it covered for some time.
Now put the oil on the gas to heat
When your oil is hot, then dip the marinated chicken in the prepared solution and put it in the hot oil.
Cook it well on low flame
When your chicken is cooked well from all sides, take it out in a separate vessel and eat it with chutney.
Some tips for fried Chicken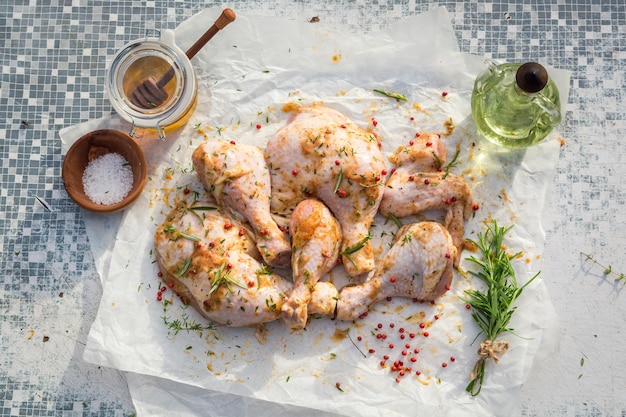 If you want to make your chicken fry look good too, then you can add food colour to it, which will make it colourful in appearance.
Chicken Fry When Preparing One Thing Keep Keeping Chicken Use Always According to the weather this will not you get any illness is even and you will get delicious dish too
In this, you can choose red chillies according to your and you can also increase or decrease the spices according to your own because some people like the dish with fewer spices.
If you want, you can also boil your chicken well first, then mix it with spices, by doing this your chicken will be cooked very well and it will be very tasty to eat.
Before frying the chicken in oil, make sure that your oil is heated properly.
Because if your oil is not hot enough then it will break with the above spices while frying.
The longer you keep all the chicken to marinate, the more delicious it will be
Fry the chicken for a minimum of 10 before serving. you make sure cooling sets the crust and ensures that the chicken can have done all its carryover preparation. I prefer to cool down any leftover chicken utterly and then store it in a paper tissue or an airtight container in the refrigerator. The tissue paper absorbs condensation and keeps that chicken crisp for an hour of snacking.
To make your chicken even more crispy, fry it a little longer, which will make your chicken even more crispy. If we eat fried chicken with mayonnaise, then it will look even better to eat mayonnaise, you can also make mayonnaise at home, read the steps given below to make it
How to make mayonnaise
To make veg mayonnaise, keep oil and soy milk in the fridge. When the oil and soy milk are almost on the verge of freezing, take them out of the fridge.
Take a round deep-bottomed jar, and put soy milk and vinegar in that jar.
With the help of a hand blender, mix vinegar and milk well.
After mixing, add mustard powder to it and mix again.
Now slowly add oil to the jar and blend it continuously with a hand blender. After doing this continuously for 2 minutes, put the mixture back in the fridge to rest.
After removing it from the fridge, repeat the same thing again, slowly adding oil and blending it well from all sides.
The mixture will start to thicken slightly, which has to be beaten continuously for at least 5 minutes even after the oil is gone.
Mayonnaise is ready, which you can keep in a closed jar and use it for a long time.
Conclusion
So, Friends, I hope that after reading this article, all of you must have understood the complete step of making this Fried Chicken, that too you can make Fried Chicken at home without any problem, you can do this. You must have also come to know that it does not take much time to make it, along with this vegetable looks very tasty to eat.
If you liked this Fried Chicken Recipe, then please share this Laziz Recipe with your friends and if you have any questions in your mind, then tell us by comment box, and we will definitely answer all your questions.
If you want to know about any other type of Chicken Recipe then tell us by comment box, and we will write about the best recipe for you.
Thank you!
Read more – Types of Gujrati Dhokla
दोस्तों मेरा नाम अंकिता हैं और  मैं lazizrecipe.com टीम से हु पेशेवर राइटर और एडिटर हूं। यहाँ पर मैं नियमित रूप से अपने पाठकों के लिए टेस्टी और लाज़बाब Recipe शेयर करती हूँ, यदि आपको जानकारी पसंद आई तो अपने दोस्तों के साथ शेयर करे और यदि आपके मन में कोई सवाल या किसी और रेसिपी के बारे में जानना हो तो हमें कमेंट करके बताये हमें आपकी सहायता करने में बेहद ख़ुशी होगी ।