Banana Cake is a very good taste to eat, but it is harmful to health, but today I am going to tell you about Banana Cake which will be good for your health. So today we are presented with a new recipe on our website. Which is how to make Banana Cake at home. All of you are reading this recipe on laziz recipe website.
Hello friends, I am Ankita Maurya welcome to you this website lazizrecipe.com today we will tell you the easiest way to make a Banana Cake Recipe at home in this article. If you want to make this recipe at home and you do not know how to make it, then today we are going to tell you the complete information about the Banana Cake Recipe. This is a healthy recipe that you can easily make at home
If you want to eat something sweet and if you want to make a nice cake recipe in a very short time, then all of you can try this Banana Cake recipe at home which will be liked by everyone, this cake is so sweet and spongy that If you all eat it morning or evening then you will enjoy it.
Banana Cake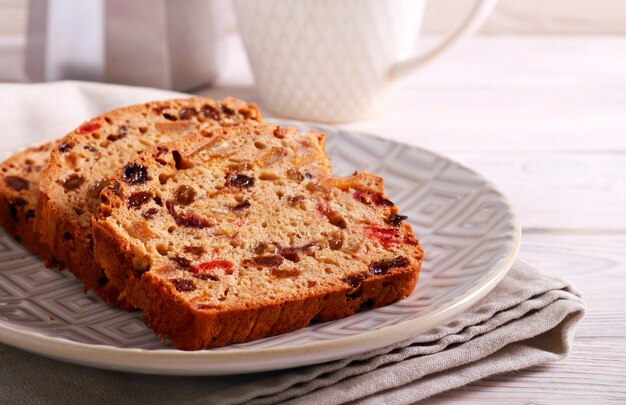 Banana Cake is such a dessert which is eaten by most people, which is very much like eating cake for children. You must have eaten many cakes till now with many flavours but today I am going to tell you only Banana Cake without an oven and no egg, flour, or chocolate has been added to it. It will be ready like a market cake with very few ingredients, so if you also want to make this Banana Cake, then definitely read this article till the end.
Banana Cake will be good as well as beneficial for our health. Cake children like to eat a lot. This will also have a great effect on their health, so you can feed them Banana Cake made at home. Banana is very beneficial for our health because it is high in nutrients like fibre, magnesium and folate. Folate) All these nutrients prevent heart disease and other diseases.
This cake is very good to eat and this Banana Cake which is made of Banana flour and Banana is also known as Banana. So friends, if you also want to know how such a good cake is made of Banana.
Ingredients of recipe
| | | |
| --- | --- | --- |
| S.N | Ingredients | Quantity |
| 1. | Flour | 500 gram |
| 2. | Baking soda | 2 – 4 tsp |
| 3. | salt | 1 – 2 pinch |
| 4. | Ground cinnamon | 1 – 4 tsp |
| 5. | Unsalted butter | 200 gram |
| 6. | sugar | 1 cup |
| 7. | Egg | 2 – 4 |
| 8. | Yoghurt | 1 cup |
| 9 | banana | 4 – 5 |
| 10. | Vanilla extract | 1-3 tsp |
How to make the Banana cake 
To make banana cake, first, you put a banana in a mixer jar and grind it.
After grinding the banana, take a big bowl and take one cup of curd.
Beat the curd well beforehand so that no lumps remain in it.
After beating, put a cup of sugar in it and mix both of them well.
After mixing, add 1/2 cup oil to it and mix it.
After that, you add Banana little by little and keep going so that there are no lumps in the batter.
After all the Banana is mixed, add milk to it and mix it.
Keep in mind that the batter should not be too thin.
When the batter is ready, then keep it on rest for 10-15 minutes so that the Banana rises well.
After 10-15, if you stir the batter, it will become a little thicker than before because the Banana has absorbed the milk.
Therefore, by adding some milk to it, the batter will be set.
After that add banking powder and banking soda to it.
After that, add Vanilla Essence to it for flavour, then add a little milk to it and mix it all well.
After adding tutti frutti, mix everything well.
Now the batter for our semolina cake is ready, now we have to back the cake strictly.
you do your oven preheat up the kitchen appliance to 350°F (177°C). Lowering the kitchen appliance rack prevents the highest oven from browning an excessive amount, too soon. now take a pan with non-stick spray. Set aside in the oven

And transfer your batter to a pot and do it inside an oven
now let ready your banana cake
Cake Decorating Method
No matter how delicious the cake is made, if it does not look good, then all the hard work is wasted. The exterior decoration of the cake matters a lot. Its decoration also makes the bakery cake more attractive. So let us learn how to make it more attractive by decorating the exterior of the cake.
For this, first of all, we will heat butter (butter) and milk together in a vessel.
After heating the solution for 2 to 3 minutes, add choco chips to it.
After the choco chips are completely melted, take them off the gas.
Then place the baked cake on a vessel.
Spread this solution all over the cake in such a way that the cake is completely covered.
Now we will put some choco chips on it to decorate the top part and make some flowers with cream, this will make our cake look more attractive.
If you can not make flowers, then you can decorate according to your own with the help of cherries or dry fruits.
After the complete decoration is done, keep it in the fridge to set for 15 minutes.
Some important Tips for cake
When we prepare the batter, then we have to take care that the batter is neither too thick nor too thin.
When you add banana to the batter, keep in mind that little by little, del and keep going so that there are no lumps of any kind.
While making Banana Cake, you can sweeten it as per your requirement.
You can add any flavour to the cake.
If you do not have Vanilla Essence, then you can use cardamom powder in that place.
If you do not have a thick-bottomed pan, then, first of all, put the roti tawa on high flame, after that you put your pan with your palatable on the pan, then reduce the flame of the gas.
Conclusion
So, Friends, I hope that after reading this article, all of you must have understood the complete step of making this Banana Cake Recipe, that too you can make a Banana Cake at home without any problem, you can do this. You must have also come to know that it does not take much time to make it. Along with this dry fruits looks very tasty to eat.
If you liked this Banana Cake Recipe, then please share this Laziz Recipe with your friends and if you have any questions in your mind, then tell us by comment box, and we will answer all your questions.
If you want to know about any other type of cake Recipe then tell us by comment box, and we will write about the best recipe for you.
Thank you!
Read more – Types of Gujrati Dhokla
दोस्तों मेरा नाम अंकिता हैं और  मैं lazizrecipe.com टीम से हु पेशेवर राइटर और एडिटर हूं। यहाँ पर मैं नियमित रूप से अपने पाठकों के लिए टेस्टी और लाज़बाब Recipe शेयर करती हूँ, यदि आपको जानकारी पसंद आई तो अपने दोस्तों के साथ शेयर करे और यदि आपके मन में कोई सवाल या किसी और रेसिपी के बारे में जानना हो तो हमें कमेंट करके बताये हमें आपकी सहायता करने में बेहद ख़ुशी होगी ।